It's your ceremony
I believe that in order for a ceremony to be truly meaningful, it should reflect the values, beliefs, customs and wishes of the participants; whether they are traditional, unique or something in between.
Let me work with you to create a personalized ceremony that fits your needs and reflects who you are.
When I work on your ceremony… your word is final.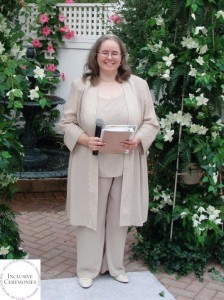 First, we'll have a brief phone conversation to confirm availability for the date and briefly discuss the type of ceremony you are looking for. Then, we'll set a time to meet.
The no obligation meeting is attended by those for whom the ceremony is being written. (This means both members of the couple for couple's ceremonies and/or the guest of honor for coming of age ceremonies, etc.) At this time we discuss in more detail what you hope to include in your ceremony and I will give you a questionnaire to complete at home. (All parties get their own questionnaire.)
When you send your answers back, I research and write your ceremony. Then I send you a draft and make any changes you want. Your word is final. Nothing goes into your ceremony without your okay.
At the rehearsal, we will run through the ceremony and make any last minute changes you want. And on the day of your ceremony, you will know that the ceremony has been designed just for you, with your wishes at heart. There will be no surprises. Just your ceremony as you have envisioned it.
Contact Cris