Wedding planners, coordinators, and venue managers:
We all know that there is a trend towards having friends officiate, but that doesn't mean it's the best option for your couples.
If your couple said that their aunt was going to bake the wedding cake for their 200 guests, wouldn't you suggest they consider a professional baker?
Here are 5 reasons your couples need certified Life-Cycle Celebrant, Cristina Kollet as their professional wedding officiant, and so do you.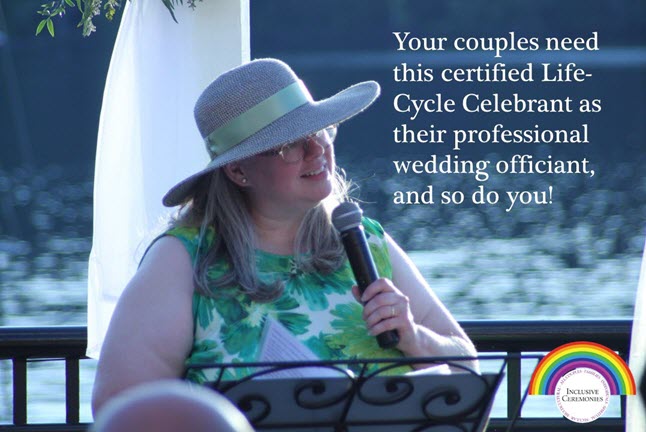 1. Your couples may not be aware there is a better option
Couples often choose a friend to officiate when they don't want church or courthouse wedding.
Cris is a ceremony specialist and the professional wedding officiant your couples really need.
Since 2006, She's helped hundreds of couples have the ceremony of their dreams whether those dreams are traditional or completely out of the box.
2. Cris is a trained professional
There are advantages to working with wedding professionals.
Amateur officiants don't know how to organize a ceremony or work with professional vendors. Their lack of experience can lead to miscommunications and late starts which can throw off your timeline for the rest of the wedding day.
Planners, DJ, and Photographers love working with Cris.
On the wedding day, Cris arrives for the ceremony early, well-rehearsed, ready to perform, and prepared with an outline of the processional for you and cue sheets for the Photographers and DJ, so everyone knows what to expect during the ceremony.
3. Every couple wants a beautiful ceremony and it's not as easy as it looks
Have you ever had someone tell you they want to be a wedding planner because it looks easy? Meanwhile you know what it really takes.
Amateur officiants often cobble together the ceremony from bits they find online. While they have the best of intentions, they don't have the knowledge of experience to create from scratch, the kind of beautiful experience your couples deserve.
Cris works with each couple to create a custom-written ceremony. She has the training to combine words and rituals, include guests, and blend traditions, so that every ceremony is unique. Best of all, there are no unpleasant surprises. Couple's get to review the script in advance and make changes if it's not perfect.
See why Cris is a six-time Wedding Wire Couple's Choice Winner.
4. Friends and family often back out of officiating
Friends and relatives often back out of officiating because they're overwhelmed by the responsibility or they realize that they aren't prepared or qualified to fulfill the legal obligations that come with officiating.
There's no wedding without the ceremony.
Recommend Cris to your couples as a better alternative. She'll be happy to show your couple how they can still give that special friend or relative an important role in their ceremony without all the pressure.
5. Remember, the wedding ceremony sets the tone for the entire day
Let's face it, if the ceremony doesn't go well it impacts the rest of the wedding day.
When couples work with Cris, they can relax and enjoy saying I do their way. And you can rest assured that they're starting their wedding celebration in capable hands.
Learn how your clients can enjoy a professionally created bespoke ceremony.
Email Cris at Cris@InclusiveCeremonies.com or call/text 973-985-0798.
Proudly serving the NY Catskills, Hudson Valley, Northern NJ, and beyond!
Venues, get your ceremony space report card!
See what couples have to say about working with Cris.