In 2005, I found myself engaged, planning a wedding…and worried.
The question of who would officiate our ceremony weighed more heavily than all the other details combined. I didn't want to have a church wedding and play at beliefs I didn't share with the officiant.
I didn't want to be stuck in City Hall having a dry ceremony that we couldn't invite all of our guests to. Most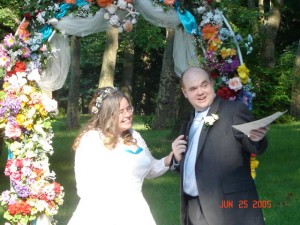 of all, I wanted us to determine what went into our ceremony.
We found the Celebrant Foundation and Institute (then Celebrant USA) and not only did we find a Life-Cycle Celebrant® for our wedding, I also found my calling.
Now I'm a Master Life-Cycle Celebrant®. I create custom wedding ceremonies, elopements, and other ceremonies for couples, individuals, and families in New York and New Jersey.
I'm also an ordained minister and a State of New Jersey Certified Civil Celebrant.
I help people celebrate the most important moments in their lives in a way that's meaningful to them.
It's the best job I've ever had!