A custom wedding ceremony means that, with the exception of whatever legal qualifications we have to meet, your ceremony can be just about anything you want it to be. (Here in New York and New Jersey, your marriage certificate has to be filled out correctly, you have to have an officiant and witnesses present, and you have to indicate your intention to be married in the ceremony.)
Elements of a custom wedding ceremony
Generally, the starting elements include your love story, any rituals, readings, songs, etc., that you want to have in your ceremony. I'll ask about any ideas you have when we meet.
Using that as a starting point, we can explore other possibilities.
Do you want to include a moment of remembrance for anybody in your family?
Do you want to write your own vows?
Do you need help writing your own vows?
Do you want vows written for you?
All of these things are custom elements that make the ceremony uniquely yours.
Next, we talk about readings. Readings don't have to be religious in nature, though they certainly can be.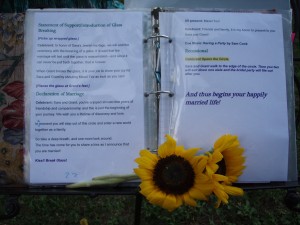 Readings can be anything from poetry to prose, song lyrics, or even something written just for you by friends or family.  What makes a reading appropriate for your ceremony is your connection to it.
We'll also talk about who will give your readings. I'll ask you to think, not just about people you have to include in your ceremony, but about you want to include in your ceremony. If you have a reading you like but don't want to ask someone to read it, I can read it. On the flip side, if you don't want readings, but still have special people you want to include in  your ceremony, I can help you do that too!
There are just so many different ways to personalize your ceremony, everything from the music that you choose when you first step down the aisle to what happens after you kiss. Everything can be customized.
Advantages of a custom wedding ceremony
A custom wedding ceremony can be done where and when you want to do it. There really aren't any restrictions on the table with regards to custom wedding ceremonies.
When you're working with me, I'm not going to tell you that you can only use a certain kind of music—I'll encourage you to pick your favorite tunes. You won't be limited to specific vows or asked to choose only three sets of vows—I'll help you find the perfect words to make your commitment to each other. I'm not going to tell you that reading lyrics from Led Zeppelin isn't appropriate as a reading. I'm going to tell you that that's wicked cool and that we should totally do it. The difference is really in the lack of limits when you're coming to me for a custom ceremony.
Get the wedding ceremony you want to have.
When you are having a traditional ceremony in a house of worship, the emphasis is different. In those ceremonies, the emphasis is between the couple and that religion. There's nothing wrong with that if that's meaningful to you. If it's meaningful to you, then that's certainly what you should go for.
My priority is always that you have the ceremony that's right for you. But if what you really want is something that speaks primarily to the two of you as a couple, a highly personal celebration focused on your love for each other, then a custom ceremony is probably more appropriate.