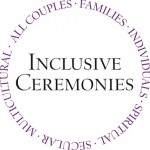 I am thrilled whenever I read that yet another state has marriage equality. When I started my practice in 2006, I called it Inclusive Ceremonies as a clear signal that I wanted to serve all couples and it has been my privilege to serve the LGBTQ community, first through civil unions and then, finally, in legal marriage ceremonies.
We started with civil unions in New Jersey
Katheryn and Alexandra were first. They had their civil union in May 2007, surrounded by close family and friends in a lovely park in a ceremony they wrote themselves.
They were followed in October of that year by John and Jason. John and Jason wanted a quick civil union ceremony in a park with a view of the NYC skyline. New York didn't have any legal options for gay couples at the time and they had another ceremony and celebration planned in the city later that day. So at about 8AM, we stood in that park, under a canopy of umbrellas and in the pouring rain, with a few of their closest friends. It was one of the quickest and most simple ceremonies I've ever done and certainly one of the most memorable!
We began with words, "We are gathered here today to solemnize the legal union between these two men that will reflect the union of hearts, minds, and spirits that will be celebrated later today." And we ended with "I now pronounce you civilized!"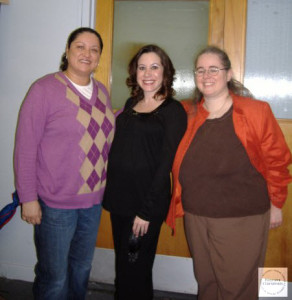 2008 began with a quick ceremony for Johanna and Caridad—friends of Jason and John. Caridad and Johanna had already had a commitment ceremony years before and a wedding in San Francisco. Their marriage of the heart having already been celebrated again and again, their civil union was a casual gathering before 2 friends as witnesses in the office where one of them worked.
Then in June, I helped  Kris and Suzanne celebrate their love in a civil union ceremony at the Grounds for Sculpture in Hamilton, NJ. We stood surrounded by The Nine Muses . There wasn't a dry eye in the place as Suzanne's mother Kathy offered her blessing to the 2 June brides.
Dawn and Jennifer's civil union ceremony at Perona Farms in 2009 was one of my favorites. As I told their love story, and spoke of the 2 first kisses and 2 proposals these amazing women had shared, I remember the beaming faces of their friends and family. During the ceremony, we expressed Dawn and Jennifer's happiness at having the civil union option while also acknowledging that the ultimate goal of marriage had not quite been met in New Jersey.
Celebrant: Jennifer and Dawn Marie are also overjoyed that their commitment is being recognized by the State of New Jersey as a Civil Union. Although it is written into the law that a Civil Union should have the same rights and protections as legal marriage we know too well from history that separate is not equal. Jennifer and Dawn Marie hope that one day their love, and the love of their gay and lesbian brothers and sisters, is recognized nationally and that their love and commitment is afforded the same protection and status as other legal marriages.
 2010 saw Brennan and Toni-An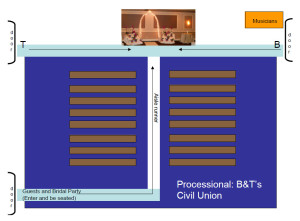 ne's civil union ceremony at The Westwood in Garwood, NJ. Toni-Anne and Brennan took advantage of The Westwood's setup and had an absolutely stunning processional to begin their ceremony. After their bridal party entered, doors opened at opposite sides of the front of the room. Toni-Anne and Brennan enjoyed a first look before walking towards each other to meet in the middle—their ceremony reflecting their life.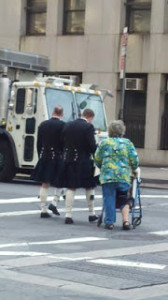 Marriage equality comes to New York
In 2011, I went to New York City to celebrate the start of marriage equality in the Big Apple. It was an amazing day and while I personally didn't perform any ceremonies that day, it was still incredible to see history unfolding.  As I headed to the for the festivities, I saw this family making their way to City Hall and I knew we were all headed in the right direction.
My last civil union was Helene and Lynn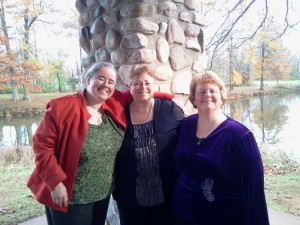 's ceremony in 2012. They were married just before Hurricane Sandy, but the anticipation that day was all about their union.  Lynn and Helene's ceremony was witnessed by friends and family who offered a variety of readings from Plato, the Bible, Khalil Gibran, and others. After their ceremony, their niece called us to look up at the sky. There above their loving family hung an upside down rainbow, as if the sky smiled down on them. It was truly a magical moment.
Marriage equality comes to New Jersey
Last year, NJ finally joined the states offering marriage equality. I was thrilled to celebrate with my friend and fellow Life-Cycle Celebrant Alisa Tongg in a Marriage Equality celebration at 9th and Coles Tavern in Jersey City.  We had a great time. Two wonderful couples exchanged vows and the room was full of love and support.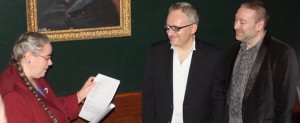 Alisa performed the ceremony for her sister and I had the pleasure of officiating for Manuel and Andrew. This was not their first wedding ceremony, which we acknowledged as we spoke of renewing their commitment to each other.
Two weeks later, I c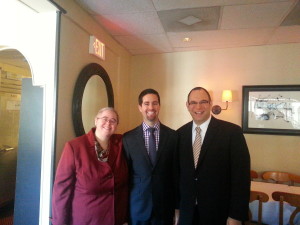 elebrated the wedding of Eric and Geoffrey in an intimate ceremony with their son and surrounded by their loving family.
I started 2014 celebrating with Jackie and Sandy in City Hall in Hoboken.  Sandy and Jackie were in town visiting family. It was a very cold day and the good folks at City Hall were kind enough to let us have the ceremony in the lobby. After I pronounced them married we were surprised to hear wedding music, courtesy of the security guard's laptop. It was a very festive and joyous day and a great way to start the year!
It's been a privilege to be a part of all of these celebrations and I look forward to many more!
Will your ceremony be next? If you're planning a wedding in New Jersey or New York, I'd love to talk to you about your ceremony. Get in touch today!