Including your children in your wedding ceremony is a wonderful way to acknowledge their place in your changing family, whether they are children from your current relationship or from past relationships. Of course, there are many factors consider, not the least of which are their comfort and feelings during your ceremony.
Why Include your Child in Your Wedding Ceremony
When two people join in marriage, the focus of the ceremony is usually on the couple, but this is also a time of transition for your children.
Giving your child the opportunity to actively participate in marking the creation of your new family can be source of assurance and empowerment for him or her. For children from past relationships especially, it's an opportunity to establish bonds and commitments between all members of your combined family.
For children whose parent's have been together for a long time and finally have the opportunity to be married thanks to Marriage Equality or have just decided the time is right to tie the knot, they may be extra eager to be part of the celebration of this important family milestone.
Whether it's part of your wedding or a separate ceremony, this is an opportunity for all of you to share hopes for the future and make a conscious start of your new life together.
Including Kids Beyond the Bridal Party
Traditionally, kids' rolls in weddings are limited to being attendants including ring bearers, flower girls, etc. But there are other ways to include your children in your wedding ceremony that acknowledge the change in their lives that your wedding brings.
Depending on their feelings and age, you may want to include some of these activities as part of your wedding ceremony or as a private ceremony with just the two of you and your children.*
Ways for Kids to Participate in Your Wedding Ceremony
Have your child walk you down the aisle.
Give your child a gift that symbolizes your new family.
Make your unity candle a family candle.
Have a family sand ceremony.
Say vows to your child about being a family. (Both parent and step-parent can speak from the heart.)
Let your children make something to be displayed at the ceremony or carried by the parents.
Have the whole family make something to be displayed in the family home. This can be displayed at the wedding or just mentioned in the ceremony.
Have a group hug after the kiss!
Be introduced as a couple and as a family.
Make sure any participation by your child is light and symbolic. Let them be on the receiving end of your promises but, don't ask children to make oaths or promises about commitment or behavior to step parents or your combined family as they may have concerns about loyalty to their other parent even if they are happy about your marriage.
Including Babies and Very Young Children
You may be asking, what if my child is too young to participate on their own? That's easy!
Ask a trusted family member to bring up your child—or, if your baby gets fussy, to participate on their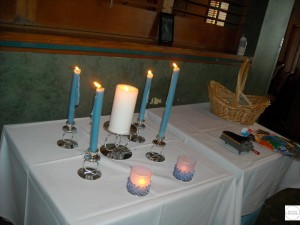 behalf. In family ceremonies, I often invite the godparents (or other close friends or family) to come forward to light the family candle. One holds the baby and the other lights the candle, along with the parents, on the baby's behalf.
*Give Your Kids a Choice
Talk to your kids about your wedding. How do they feel about the wedding and about becoming a family? Encourage them to be honest about their feelings.
Ask your children if they are comfortable participating in the ceremony and be guided by that. Weddings can be a time of mixed emotions for adults and children alike. So be accepting if your child chooses not to participate as you are planning your ceremony or has a last minute change of heart to participate or not. Your ceremony can be written to allow for both.
Finally, stage fright is a possibility even after rehearsing. Make sure your child knows it's okay to feel shy or emotional.  Talk to your officiant about how they would handle this. —If you're working with me, we can work around it so that everyone has a great day!
Planning a NJ or NY wedding and want to include your kids? Contact Cris to find out how!
Looking for ways to celebrate your expanding family? Contact Cris about your baby naming or blessing ceremony.