Marisa and Matt had two themes planned for their wedding. We spoke a lot about stones and what they mean to Marisa and Matt–how solid they are, a good foundation, and also how time can smooth away the rough edges.
Oathing Stone Wedding Rituals
Their ceremony included several rituals using stones. We began with Matt and Marisa casting aside their doubts by casting stones into the creek that ran along the ceremony site. A ritual of remembrance followed with stones honoring their grandparents and representing the love Marisa and Matt wanted to carry forward into their marriage and they spoke their vows with their hands upon an oathing stone inscribed with a Claddagh symbol symbolizing friendship, love, and loyalty.
As they watched the ceremony, each guest held a stone, imbuing it with their love. These stones were gathered after the ceremony to be kept by Matt and Marisa with their oathing stone.
They also love The Princess Bride and wanted that fun film woven throughout their ceremony as well. So I talked about Mawwiage and of things inconceivable! We talked about the adventure Marisa and Matt were launching and how their proposal was fraught with more pitfalls than a fire swamp.
Ceremony Details

Words of Welcome

Marisa and Matt's Love Story

Casting Aside of Doubts (Stones tossed in the creek)

Remembrance Stones (Gathering love to carry forward)

Reading: Union by Robert Fulghum

Vows and Oathing Stone

Ring Ceremony

Blessings from Family

Declaration of Marriage
There ceremony ended with a kiss that wasn't a happy ending, it was a very happy beginning.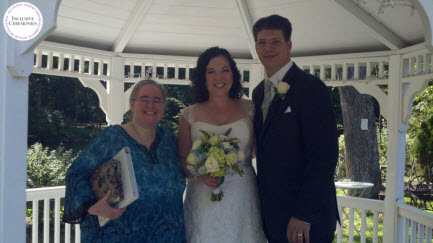 Here's what Marisa had to say about their Princess Bride / Oathing Stone wedding ceremony.
"What's more important than the ceremony? NOTHING, that's what! And Cristina was a perfect professional throughout the ceremony-writing process. She made us feel like the ceremony was just as important to her as it was to us. Cristina was a doll in person, willing to talk to us for as long as we wanted, as we tried to explain the way we wanted our ceremony as best we could. Of course, at the beginning of the planning process, our ideas were a mangled mess, and Cristina did an amazing job of taking that mess and turning it into a beautiful ceremony that everyone RAVED about. Guests were given our love story during the ceremony, clear and succinct as written by a true professional. We held a rock ceremony that we kind of designed together, as it was the first for all of us, and it turned out beautifully. I cried every time I read a new draft of our ceremony (we went through 5, I'm sure I tested Cristina's patience, but she'd never let me know that!). The ring exchange she wrote for us was perfect from the beginning, and remained unchanged throughout the editing process. Cristina was calm and reassuring on the wedding day, and even handed me a tissue as the tears were flowing during my vows. Cristina will be a treasured part of my wedding day memories." Marisa
Do you want to set your vows in stone or work your favorite movie into your wedding? I can help. Contact me today!