I met Pamela and Scott over a Skype call from my NJ home to their home in Scotland. They're such a fun couple with a love story that includes him asking her out via text message while he was locked in a bathroom.
Pamela and Scott's beautiful winter, Central Park wedding took place in the Ladies Pavilion in Central Park. It was a crisp, cold, January afternoon with the light diffused by clouds.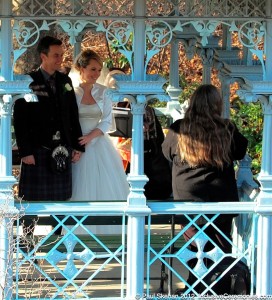 When I spoke to them initially, Karen had mentioned possibly having her mother attend the ceremony via Skype. When I spoke to Scott, before the ceremony, he said that they had been unable to arrange it. Happily, I had a backup in place. It took several tries but I was able to establish a Skype call from my tablet and Pamela's mother was able to see the wedding.
Scott and Pamela exchanged traditional vows. Their ceremony included their love story, a lot of laughter, and excepts from Captain Corelli's Mandolin by Louis de Bernieres and the Apache Wedding Prayer.
Including Mom in this Central Park Wedding
After the kiss, the ladies of Harmonia Strings played New York New York—a fitting ending to a beautiful ceremony. Then Pamela and Scott took a moment to say hello to her mom in Scotland.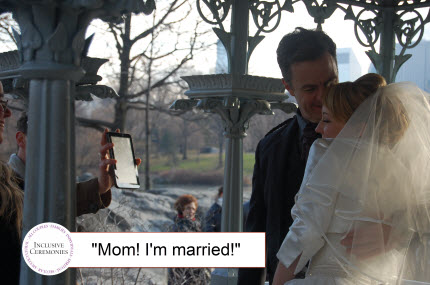 Here's what Pam had to say about it.
I would completely recommend Cris to anyone looking for an Officiant in NY. From start to finish she was a huge help. Not just in creating a beautiful and personal ceremony for my husband and I but she also helped us plan the details such as recommending venues, photographers and musicians. We were flying over from Scotland and hoping to Skype our family who couldn't be with us at the ceremony. Unfortunately it wasn't going to be possible as no one has a device capable. Unknown to us, Cris has brought a backup plan and managed to get Skype running from her tablet. I cannot thank her enough, her service went above and beyond the call of duty. Thanks again, Cris!!
I am thrilled to be able to share this video of Pamela and Scott's wedding.
(The ceremony starts at about 2:20.)
Are you planning a Central Park wedding? I'm a registered NYC officiant. Contact me about your ceremony today.