When I met Brittany and Chris, they said their ceremony was important to them. They wanted a special and memorable celebration of their love. I'm happy to say that they got that and more.
To personalize their wedding ceremony, we looked to something very important to them, music.  Brittany and Chris met at a Phish concert and were big fans of the band. It seemed like the perfect jumping off point for their ceremony.
Creating a Phish Inspired Wedding Ceremony
Normally when music is the jumping off point for a ceremony, I'll look to the group in question for romantic songs we might quote or play during the ceremony. But my study of Phish lyrics didn't reveal a lot of romance.
So instead, I looked to Brittany and Chris' love story and wove in quotes by Phish and other musicians and songs that would be meaningful to them.
Getting Everyone Together
Chris and Brittany wanted their friends and family to mix and mingle and get to know one another. From the start we talked about mixed seating rather than his side and her side. For the processional, Brittany and her friends entered to "What a Wonderful World" by Louis Armstrong. So we used the song's lyrics as a way to encourage everyone to get to know one another. We began the ceremony with a group greeting.
Celebrant: In What a Wonderful World, Louis Armstrong sings "I see friends shaking hands saying, 'How do you do?' They're really saying, 'I love you.'"
So to get things started, let's do that now. Everyone, take a moment to say hello to the people around you, introduce yourselves so that we can start this celebration as friends.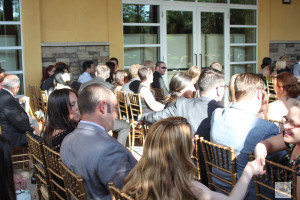 A Love Story Infused With Music
Their love story began with a quote by Jimi Hendrix.
Celebrant:  Jimi Hendrix said, "Music doesn't lie. If there is something to be changed in this world, then it can only happen through music." This is certainly true of Brittany and Chris. Music is so important to both of them that it's only fitting that a concert by their favorite performers would change their lives…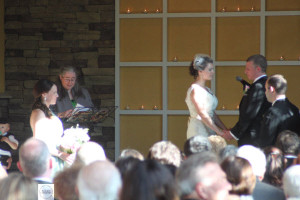 Telling of their long-distance relationship included words of wisdom from the Disco Biscuits:
Celebrant: In their song Hope, the Disco Biscuits sing, "And hope fuels generations. And hope can start your car." It's a good thing too, because in the beginning, Chris and Brittany were full of hope and had a lot of traveling to do…
Their vows tied it all together.
Celebrant: Trey Anastasio said, "Music has always been my protection against the world, from a very young age. I feel safe inside of a jam."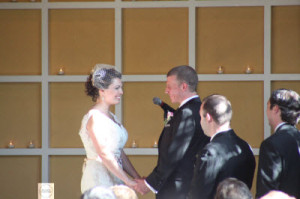 Marriage is like a jam Chris and Brittany will create together over the years. Their vows will form the foundation of their song.
There were other references scattered through this Phish inspired wedding ceremony–a few words here and there, not meant to be recognized by the guests–except their fellow Phish fans–but meaningful to Chris and Brittany  and connecting their ceremony and their journey to the music that had brought them together.
In the end a good time was had by all!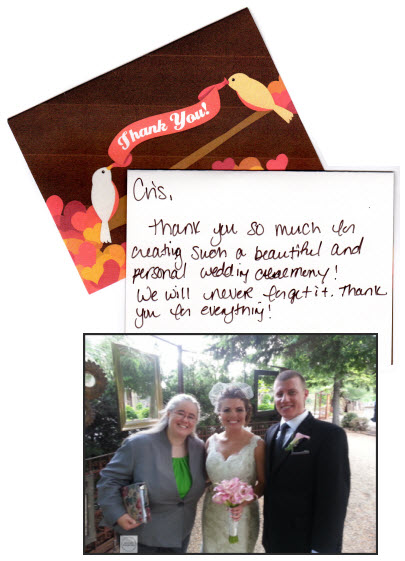 Here's what Brittany said in their Wedding Wire review:
"Words cannot express how happy my husband and I were that we decided to hire Cristina Kollet as our wedding officiant. We were looking for a lighthearted, personal wedding ceremony that really spoke true to us and Cris exceeded our expectations. After talking to her, we immediately felt her warm and easy going attitude and knew she was right for us. Our ceremony was absolutely perfect and she have heard nothing but RAVE reviews. After filling our our questionaire, Cris created a very personal ceremony with music quotes and our story which blended so well, being that music is a huge part of our lives. The ceremony was just so "us" which made it very personal and memorable. We have been told many times from our guests that it was the best wedding ceremony they have every heard and were so happy to be there to witness it. We can't thank Cris enough for everything she did to make it special for us. We HIGHLY recommend her. A true talent."
Contact Cris today about making your wedding ceremony a unique and personal expression of your love.