Small weddings, with just a few guests, can be beautiful and intimate and creative.  Going light on your guest list doesn't have to mean going light on ceremony.Having just a few people makes it possible to give everyone a meaningful role in your ceremony. Having your wedding at home can mean the opportunity to focus on meaningful details and even do some things you might not be able to do in a typical ceremony venue.
Kate and Leland were married in their home surrounded by a small group of close family and friends. Their ceremony was a tribute to their many years of love, the values and experiences they honor in life, and the friends who surrounded them with support.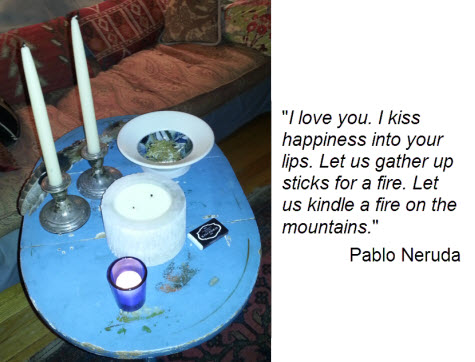 Their wedding ceremony was rich in readings, music and rituals. We burned sweet grass in honor of Leland's Montana home. We honored friends and family passed. And Kate and Leland made the unity candle ceremony their own by following it with a campfire song that we all sang together. Each person present had a role in the ceremony from helping to smudging the room, to playing the piano, from delivering heartfelt readings, to playing the piano.
Processional (Kate, escorted by her daughter, enters to "Autumn Leaves" played on the piano.)

Words of Welcome

Smudging with Sweet Grass and Moment of Remembrance

Kate and Leland's Love Story Part 1

Reading: Love by Erich Fried

Kate and Leland's Love Story Part 2

Vows and Rings

Reading: Evening LXXVIII by Pablo Neruda

Family Unity Candle with Camp Song

Statement of Support

Declaration of Marriage

Song: Under My Skin by Cole Porter