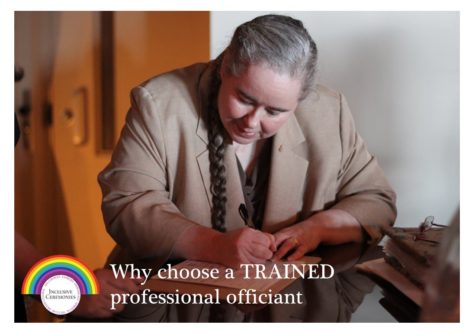 You have lots of options when it comes to choosing your ceremony officiant. For weddings, officiants need to meet certain requirements to marry you in legally binding way, and in some cases a online ordination often suffices. For family ceremonies like baby namings and funerals, there aren't any legal qualifications.
So you might think that anyone can do it, and on the surface, anyone can. Just like anyone can get a box of cake mix from the super market and bake a cake. But if you want a something truly special, a baker who has gone to culinary school and focused on pastry arts will be more capable to give you what you want.
I place a lot of emphasis on my training. When I post about my services I say I am a "trained professional officiant and a certified Life-Cycle Celebrant". Let me tell you what that means.
I trained extensively through the Celebrant Foundation & Institute to earn my Life-Cycle Celebrant certification. I invested thousands of dollars into my education and and spent months mastering a college-level curriculum.
My studies touched on topics ranging from anthropology and sociology to writing and marketing. All this, to learn the professional skills it takes to serve couples, individuals, and families during some of the best and worst times of their lives.
I studied interview techniques, how to research and combine traditions, how to serve clients in challenging circumstances, and how to determine the legal requirements needed to marry someone. When I attained my certification, I took more courses to expand my knowledge of ceremony, to improve my ceremony writing skills, and to serve people who are often left out of mainstream celebrations.
I've studied weddings, personal and family milestones, and end of life ceremonies. I've learned how to help couples and families from different cultural and faith traditions find common ground in celebrations of marriage and the welcoming of children to their families. I've studied ceremonies of sustenance, personal transition, healing, and growth. I've attended training on better serving the LGBTQ+ community.  And I've studied how to create funerals and memorials that honor the whole person, flaws and all, without sugar-coating and turning them, in memory, into someone they weren't in life.
Most of all, I've trained to make deeply meaningful ceremony accessible to everyone including those who aren't served otherwise. And I went on to teach for the Celebrant Foundation for several years after that, so that others could do the same.
I take this work very seriously, because no one should have to settle for celebrating their life in an inauthentic way, or worse yet, feel that they are living a life that can't be celebrated at all just because they don't follow common traditions.
It's worth noting too, that among my classmates and students over the years were ministers and members of the traditional clergy who sought to learn more about the art of custom ceremony creation, something not covered in their clerical training.
There are many "professional" officiants out there. All one needs to be a professional is to offer a service in exchange for compensation. But if you want someone who has studied their craft and learned to create a ceremony from scratch to meet your specific wishes and needs—someone who can weave a ceremony from the threads of your experiences, beliefs, hopes, and memories—then seek out a trained professional who has invested the time and work to learn this art. You'll be happy you did.