Welcome back to my series on creating your wedding ceremony. In part 1, I covered important topics to discuss with any wedding officiants you consider for your wedding. In this installment, I'll walk you through how I work with you to write and plan your wedding ceremony.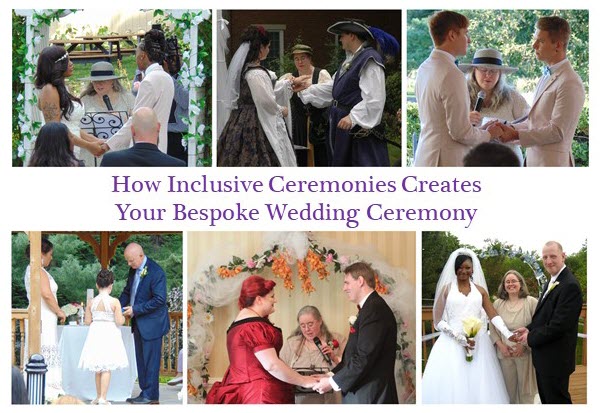 Creating your wedding ceremony part 2:
How Inclusive Ceremonies creates your bespoke wedding ceremony
It's always an honor to be a part of a wedding. In my work as a Life-Cycle Celebrant, I have the very important job of not just officiating wedding ceremonies, but also working closely with couples to create them.
Some couples want a brief ceremony of about 10 minutes, and some want a more elaborate ceremony. (Those usually turn out to be about 20-30 minutes). Whether you choose a Simple & Sweet ceremony or the Full Celebrant Service, a lot of heart, thought, and creativity goes into every moment of your I dos.
It starts with a conversation.
As a Life-Cycle Celebrant, I'm trained to approach your ceremony without a long list of must haves or preconceived notions about what a wedding ceremony has to look like. What matters is how you want to make your commitment to each other. I see your ceremony as a tapestry we weave together.
We'll start by discussing your vision for your ceremony. This may be done in person, on a phone or video call, or by email.
Do you imagine a traditional walk down the aisle? Or do you picture your loved ones gathering to stand in a circle around you?
We'll start at the beginning and explore every part, from those first steps through to the final kiss at the end. When we're done, I'll have the framework on which to weave your marriage ceremony.
Then comes a little homework.
Your online questionnaires will give me the details I need to create your ceremony. You'll reflect on your love story, what marriage means to you, and your plans for the future. I'll ask you each to fill out your own, so I can get both of your perspectives. Your answers will be the colorful threads that make up your ceremony.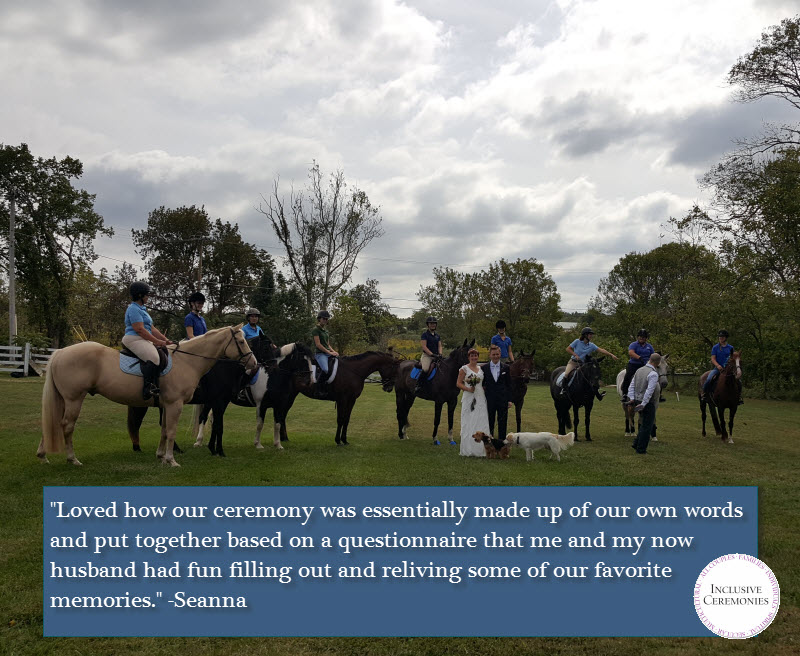 Next, I take those threads and weave in some magic.
Here's where I get to fall in love with your love story—and I always do.
Occasionally, I'll meet a couple who says that their love story is ordinary or not very romantic, or that everyone already knows it.
I'm here to tell you that there is beauty in your story, and joy, and laughter, and hope. I'll weave that all into your ceremony. What makes your love story special is that it's yours.
Finally, we tie up any loose ends.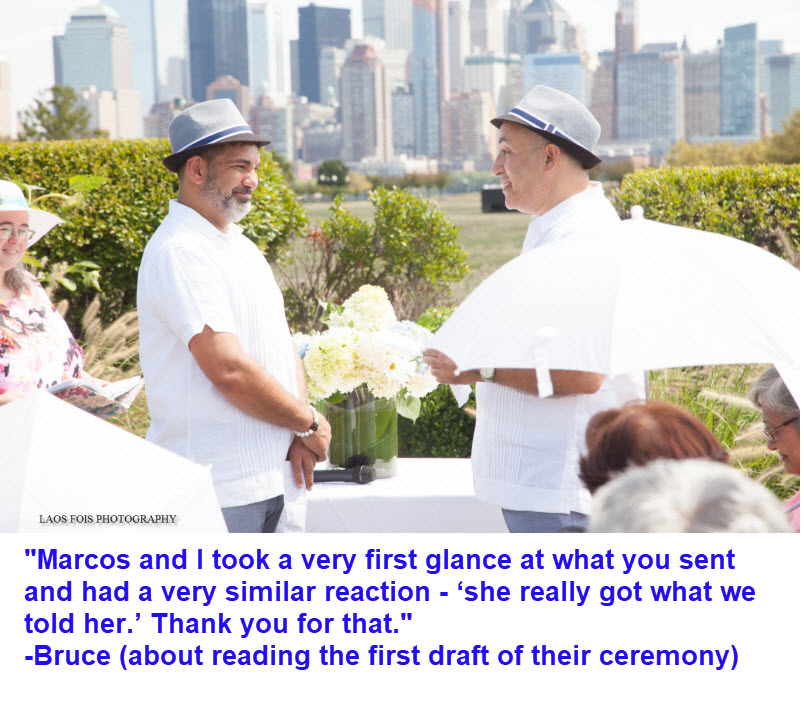 When you get your ceremony to review, remember that my first priority is for you to have the ceremony you want. Read through it together, talk about it, and let me know if there is anything missing, or anything you want phrased differently.
If you've changed your mind about a reading or ritual, I'll make it work for you. If you realized that you want to change how you make your vows, don't worry. You'll be able to make your commitment your way.
When your wedding day comes, you'll be able to focus on each other, confident that your ceremony reflects who you are, honors your beliefs, and doesn't include any unpleasant surprises.
Want to learn more?
The best way to be sure you get the ceremony you want is talk with your officiant about your vision and make sure they're onboard. I may be the officiant you're looking for. Let's talk today and find out!
Email me at Cris@InclusiveCeremonies.com or call/text 973-985-0798.
Read the rest of the series:
Part 1: Don't hire a wedding officiant without talking about these things