Wedding Ceremony at the Barn at Perona Farms in Andover, New Jersey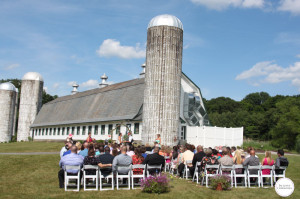 May We Have the Wedding Rings, Please?
Normally the moment when wedding rings are presented it's a very brief moment, sometimes involving searching pockets, fumbling with little boxes, or untying the rings from a pillow. But when we think of making wedding traditions personal, even the simplest moments in a wedding can become amazing.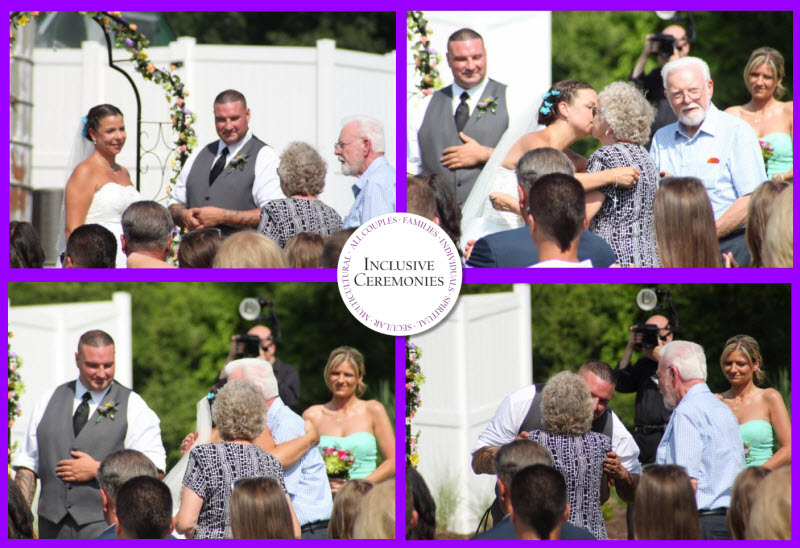 Lauren and Johnny planned a special surprise for the moment when their wedding rings were presented. They asked Lauren's childhood neighbors, Barbara and Frank to present them. The very next day was going to be Frank and Barbara's 58th anniversary. So when they came up, we asked them to warm the wedding rings with their love in hopes that some of their blessings might rub off for Lauren and Johnny. And we all cheered in honor of their anniversary. It was a lovely moment that added meaning to the already rich symbolism of Lauren and Johnny's wedding rings.
These Are the Hands…
After the exchange of rings, Lauren and Johnny asked for lovely and popular a reading/ritual called These Are the Hands. This is a moment in the ceremony where the couple holds hands while listening to a reading about the love, caring and companionship they will share and express to each other with their hands in the years ahead. While a version of this ritual is readily available on the Internet, I thought Lauren and Johnny deserved a more personal touch.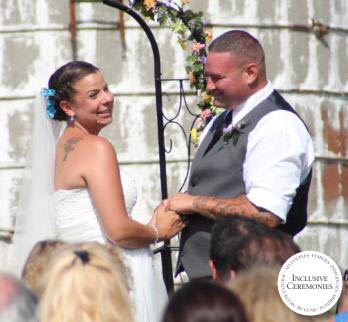 Using the idea of the original reading as a jumping off point, I wrote a version just for Johnny and Lauren that was full of their own personal memories, hopes, and dreams. And since Lauren is expecting, it even talks about their future raising their child.
Here's What Lauren had to say about their ceremony.
"Cristina Kollet performed my wedding ceremony on June 28th. I cannot express how truly wonderful she is. Working with Cristina was a pleasant experience in an otherwise stressful time. My husband and I clicked with Cristina immediately and she seemed to become our friend in the process of preparing our ceremony. Cristina is an exceptional writer and storyteller and captured every bit of sentiment I was hoping for in the ceremony. The day of the wedding her performance was stellar. ALL my guests were raving about how special, personal and intimate the ceremony was and were asking…"where did you find her, she's wonderful" I am so glad I found her! She seriously made our wedding complete and memorable. She's awesome"
3 Tips for Making Wedding Traditions Personal
Ask yourselves what the tradition means to you and have the tradition described in those terms. Even the most common of wedding traditions, your vows and rings for example, may have special meaning to you beyond the meanings we're all used to hearing about.
Think about who you would like to include in your ceremony. There's no rule that says your officiant has to lead every part of your ceremony or that participants can only be readers. Friends and family can present rings, pour wine, tie chords or any number of things. Start with who you want to include and work with your officiant to find a way.
Ask yourselves, is it the exact ritual (or reading) that you like? Or just the idea behind it? Think about taking those ideas and recreating the tradition for yourself. For some things you may prefer that to go the traditional route. For others, you may want reinvent and personalize to create a new tradition for yourselves.
When making wedding traditions personal, just make it meaningful to you.
Find out how you can fill your wedding ceremony with personal traditions. Contact Cris today!