I was thrilled when Suzan contacted me about her wedding to Roger. I'd had the honor of creating a wedding ceremony for Suzan's brother Alan and his bride Becky a few years earlier and it's always an honor when a family calls me back for another ceremony.
Suzan and Roger came to the table with a lot of ideas. They had gathered readings and had a strong vision of what they wanted for their wedding, which they sent me before we met. When we sat down together,  we talked bout their life together, how we could honor both their pagan beliefs and Suzan's Jewish heritage and how everything in their ceremony could be customized for them–including the possibility of me writing a custom version of the popular These Are the Hands  reading for them.*
Shortly after our meeting Suzan called bubbling with excitement. Their wedding day was Imbolc Eve, and this paired auspiciously well with the name of their wedding venu the Lake Valhalla Club. We talked about this festival of fire and how we could incorporate that holiday's meaning and beauty in their wedding in a way that would include all of their guests.
What we came up with was a candle lighting ceremony that began with a flame from Lake Valhalla's fireplace. Roger and Suzan took this sacred flame and lit their unity candle before passing the flame to their siblings who, in turn, passed the flame to all of the guests.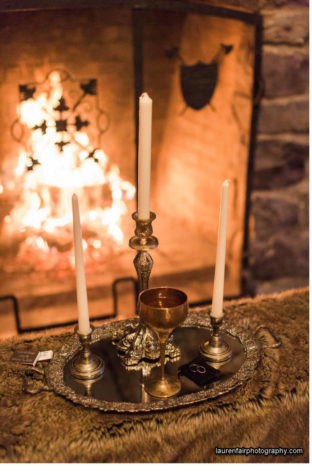 In the end it was the little details and their own love story that made Suzan and Roger's ceremony so personal. We began by talking about what their Chuppah meant to them and about Imbolc as a time of new beginnings. We shared their love story from first meeting to conversations beneath whispering pines—and their Chuppah was decorated with pine boughs. And in the end the light of their love literally filled the room.

Details of Suzan and Roger's Pagan Jewish Imbolc Wedding
Words of Welcome (The meaning of the Chuppah and Imbolc Eve)

Remembrance

Suzan and Roger'sLove Story

Reading: Love is Like a Fire by JTA

Reading: Union by Robert Fulghum

Vows and Rings (Read more about their vows here!)

Wine Sharing

Unity Candle

Passing of the Flame to All Present

Statement of Support

Breaking the Glass Explained

Closing Words and Declaration of Marriage

Break Glass and Kiss!
(*What happened to the custom These Are the Hands reading? Suzan and Roger loved it, but it didn't make the final cut. And that's the beauty of a celebrant wedding ceremony. You have control of what goes into it. After all, it's YOUR wedding!)
Here's what Suzan had to say about their wedding ceremony.
Cristina officiated my brothers wedding several years ago and I can remember being so moved by her way of sharing their love story, from laughter to tears, it was the most heart warming ceremony. So when my now husband and I got engaged I knew just who to call! Cristina is incredible at telling your story and she really spent the time to get to know us, and customized the ceremony based on this. I would recommend her to anyone looking for a truly personalized ceremony. Cristina- thank you for everything that you've done for us. The ceremony was absolutely incredible and exactly what we had imagined. You did an amazing job of bringing our story to life and making everyone feel comfortable and at ease during the ceremony (especially us!) So many of our guests shared with us that it was the most heartfelt and genuine ceremony they've ever seen, and we can't thank you enough being such a huge part of that. Just seeing you right before walking down the aisle really helped to calm my nerves. I appreciated you giving me a hug, and reminding us to have fun. Also, thank you so much for always being just a text away, and finding genius ways to incorporate all of our random out-worldly and mystical references into a comprehensive and relevant ceremony that everyone could understand! Again, thank you so much. It was beautiful and unforgettable… not just for us, but for everyone in attendance.
Let's talk about making your wedding unforgettable. Contact me today.
Note: Names have been changed out of respect for the couple's privacy.