Wedding vows are often the most personal part of a wedding ceremony. The ideas at the heart of most wedding vows are universal—to love, honor and cherish; in good times and in bad. How you make these promises to each other is up to you. Your vows can be a reflection of your love story and your unique vision of marriage. My favorite wedding vows do all that and more.
I think more and more couples are realizing that wedding vows have a presence beyond the wedding ceremony. They are your plan for the future, a guide to how you want to live together, and a touchstone you can come back to if you ever get a little lost along the way.
Last year, I had more couples ask me for help with their vows than I remember ever happening before. So, I thought it would be nice to share with you some of my favorite wedding vows from last year and what makes those vows great. Of course, you'll want to choose your own words; but these may inspire you while you're writing yours.
Vows that Acknowledge the Work of Marriage
Suzan and Roger stood beneath a canopy of evergreen boughs and promised honesty and open-mindedness, support and sacrifice; to build a happy home, and to embrace growing old together.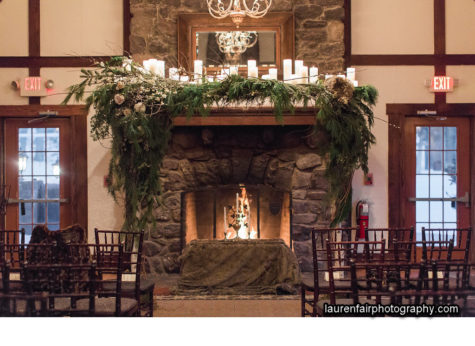 What makes these vows so great?
These vows are about going into marriage with open eyes, aware that this commitment comes with challenges and mindful of the tools to get through rough times.
Vows that Show Experience
After 17 years together, Bruce and Marcos offered each other their vows in both English and Spanish so that everyone present could witness their heartfelt intentions. Among their vows were the little things that, in marriage, are the big things. They vowed to be more patient, to listen more carefully, to have more fun, and to try new things.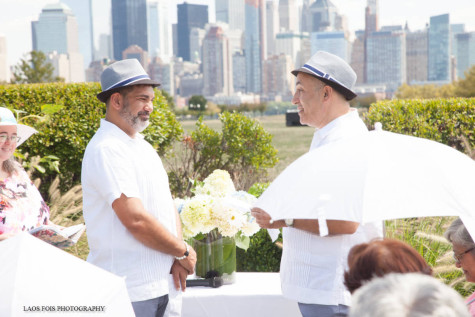 What makes these vows so great?
Couples who've been together for a long time often have a different perspective on the future than couples who are just starting their journey. If you've been through a lot together, you may want your wedding vows to acknowledge the lessons you've learned together.
Vows with a Sense of Humor
Maria and Bill's wedding was full of laughter and much of it came from their vows. Maria promised to "accept and love" everything that made Bill, Bill. And she offered a long and extensive list of those qualities that had us all in stitches. But there was one exception…If Bill ever turns into a zombie, all bets are off!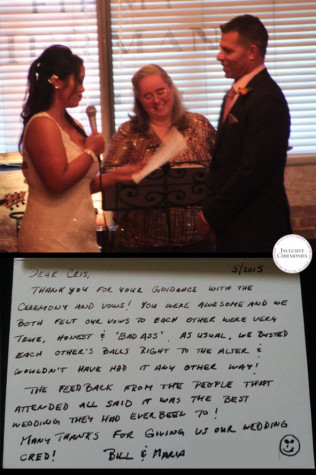 What makes these vows so great?
Your wedding vows are not just a promise for your wedding day. They are the official start of your marriage and your plan for what is to come. If there is any moment when you should be yourself, this is it!
Besides, who doesn't need a Zombie plan?
Vows that Honor Your Differences
When Rennie and Seanna exchanged their vows, half their witnesses were horses–a nod to Seanna's love of riding. Rennie, on the other hand is more of a car guy.
Their vows acknowledged the differences in their favorite pastimes. Seanna and Rennie encouraged each other to pursue their businesses and hobbies and accepted of each other's support in following their own pastimes.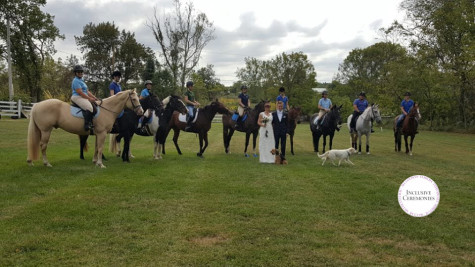 What makes these vows so great?
In weddings we tend to hear a lot about two people becoming one. But your marriage can be enriched by all the experiences you two have as individuals. This can be easy to forget sometimes. So honor your differences in your vows and make keeping up with your individual interests part of your marriage plan.
Vows in Your Language of Love
Dawn and Chris share a love of video games and everything fantasy and sci-fi from Harry Potter—to the Hobbit—to Doctor Who and more. They promised to be each other's Player 1 and Player 2, to not flip tables over board games, to let the wookiee win, and to do it all "Together or not at all." Not everyone would understand some of those references, but they mean something special to Chris and Dawn.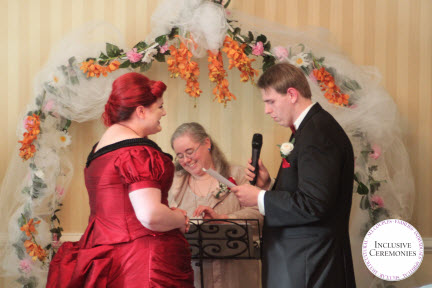 What makes these vows so great?
When you have so much in common, you develop your own language of love . Chris and Dawn's wedding ceremony and their vows celebrated their love for each other and the games, books and music that inspire them every day. This made their vows a true celebration of their life in that moment and of their hopes for the years to come.
How to Make Your Vows Your Favorite Wedding Vows
The most important thing to keep in mind is that your wedding vows should be meaningful to you. If your favorite wedding vows are the vows you grew up hearing in church—traditional words with the history of generations behind them—then use those vows. Just be true to yourself, your partner, and your goals for your marriage.
Need more help with your vows? I can help. Check out my list of wedding services.
Contact me today!
Here's more about vows:
What type of marriage vows should we consider?