Welcome to my three-part series about wedding vows. In this post, we'll talk the basics of wedding vows. In part 2, we'll talk about different types of wedding vows and in part 3, I'll give you some advice about writing wedding vows.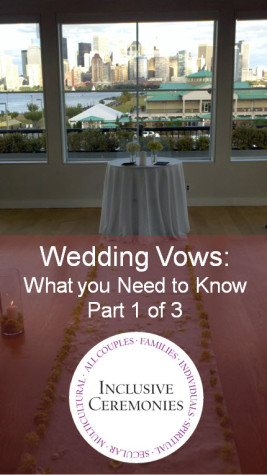 Why are wedding vows important?
Of everything that may happen in your wedding ceremony (and on your wedding day) the moment you make your wedding vows is the moment where you commit to each other in marriage. This moment combines the legal and personal aspects of your marriage ceremony and there are many ways to make your vows and enter into that commitment.
What needs to be in our wedding vows?
Wedding vows typically include a statement of intent and personal vows. (Your rings can be exchanged as part of these vows or after.)
The one thing that needs to be indicated during your wedding is you intention to be married to each other—that statement of intent.
Depending on where you get married there may be specific rules about where and how this needs to be done in your ceremony. Your officiant should be able to guide you and let you know if your statement of intent (also called a declaration of intent) needs to stand alone or if it can be incorporated into your personal vows.
In its most basic form, a traditional statement of intent is the classic "I do" question and answer.
Question: Do you _______ take __________ to be your [spouse/husband/wife/partner]?
Answer: I do.
It can also be made as a statement:
I ________ take you, __________ to be my [spouse/husband/wife/partner].
Say this before your required witnesses (along with your required paperwork) and you could stop there and be married. But your wedding vows can be so much more!
How can wedding vows reflect us…as a couple…or individuals?
Your wedding vows can be the most personal part of your wedding ceremony. They are between the two of you–and in that moment you may not even remember your guests are there!
There's no other couple like you. No one else has shared your experiences or made your compromises or set your goals. And no one else will be living your marriage the way you will.
Your vows are your opportunity to set your intentions for your marriage. You can talk about what you mean to each other. You can make promises for how you want to live together and look to your future.
Your vows can be deeply personal. They can be serious or fun. They can include those points of negotiation, big and small, that are a part of your every relationship with each other.
Some of my very favorite wedding vows were exchanged at a wedding I witnessed before I became a Celebrant. She promised to support his Sunday football tradition and he promised to live with her ever growing collection of black shoes. These points may seem trivial to some, but those of us close to the couple recognized these as important terms that would affect everyday life in their home for years to come.
Your vows can be spoken in the language of your relationship. The sea plays a significant role in my relationship with my husband, since we're both SCUBA divers. We even had an Under the Sea theme for our wedding. So our ring vows reflected our connection to the sea.
"For better or for worse, in sickness and in health, for richer or for poorer, in warm water and thermoclines, in glassy seas and eight foot swells.  I am yours."
What if we like traditional vows?
The most important thing is that your vows be meaningful to you. If you dream of speaking the same words that your parents spoke and their parents before them, then go for it. There is great meaning to be found in tradition.
Just keep in mind that one person's idea of traditional may not be the same as yours.  So don't just say "we want to use traditional vows." Tell you officiant the words you want to use.
Looking for an officiant who will help you write your vows? Contact Cris today!
Go to Part 2—What type of marriage vows should we consider?
Go to Part 3— Writing your wedding vows–when and what to write