Welcome to the last post this series about wedding vows. If you need to catch up, we began with the basics of wedding vows and in part 2, we talked about different types of wedding vows. This week, we get writing.
When should you be writing your wedding vows?
Don't leave writing your wedding vows to the last minute. We've all seen it in the movies, the bride or groom pulling out that rumpled piece of paper they scratched their vows on the night before the wedding. In real life, you're probably going to be too busy the night before your wedding to do the job.
Give yourself the time to think about what you want to say. since you're planning your wedding, the time to start thinking about writing your wedding vows is now.
How do we know what to write?
When you sit down to write your vows, think about how you answered these questions:
What promises do you want to make to your spouse?
What promises do you want your spouse to make?
What do you love about your spouse?
What are your hopes for the future?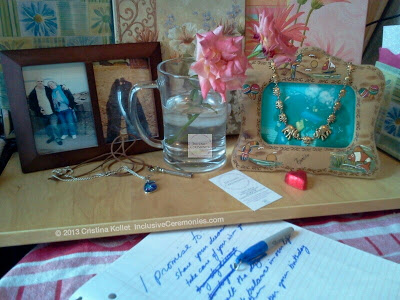 This is the point in your ceremony where you're going to speak from your heart and set your intentions for your life together. These words are your plan, the map you can look to again and again over your years together.
Don't feel that your vows have to be all serious. You two have gone through those little personal negotiations that all couple's go through. These can be very meaningful–and fun to include in your vows.
Talk with each other and think about whether you want to write your vows together or if you want to surprise each other. Either way you don't have to say the same things to each other unless you want to.
Do our vows have to match?
Your vows don't have to match and they don't have to be the same length. I've known couples where one's vows were just a paragraph and the other spoke at length. What mattered were that they were both heartfelt and honest.
The most important thing to remember when writing your wedding vows is to say what you want to say–what's important to you. This is your chance to set the tone for your marriage too. Be yourself. At the end of the day these words are between the two of you and that's what matters.
Want to make your vows the centerpiece of an amazing ceremony? Contact Cris today!
Go to Part 1—Wedding Vows: What you Need to Know
Go to Part 2—What type of marriage vows should we consider?
Inclusive Ceremonies now offers vow writing services!