Celebrating 10 years of marriage with a vow renewal
A vow renewal is part wedding, part family ceremony, and all love. It's a unique opportunity to revisit parts of your wedding or create something entirely new. For some couples, a vow renewal is a chance to replenish or redefine commitment. For others, a vow renewal may be a chance to make up for something that was lacking in their wedding, be it the ceremony itself or inclusion of some important people.
As a Celebrant, vow renewals can be a chance for me to reconnect with couples and families I have served in the past.
When I decided to train as a celebrant, I wanted to study more than just weddings. After all, a wedding is just the beginning of a family's story. So I studied weddings, various family ceremonies, and even funerals. It was my goal to become a family celebrant, serving the same families for years to come.
Christina and David have one of those families that it's been my pleasure to serve over the course of my career. I helped their family celebrate the arrivals of both their sons. Recently, we had a vow renewal for their 10th anniversary. It was a celebration, not just of a couple, but of a family.
Their vow renewal ceremony was packed with old and new traditions. We carried forward their family candle, which had started as their wedding unity candle and had also been a part of both their sons' baby ceremonies. Stones painted by their boys and other family members were gathered to start a rock garden in celebration of their home, and cuttings from a tree they planted years ago were nurtured to take root and give them shade and shelter in the years to come.
Throughout the ceremony, we included all the guests and even Christina's mom, who was watching over Facebook!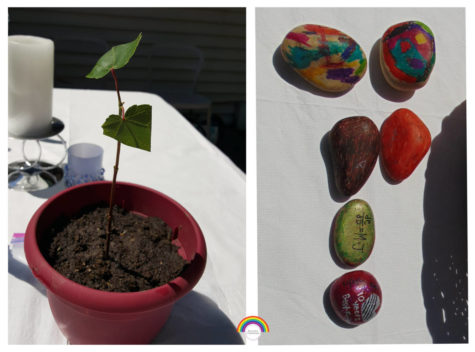 Of course, creating a ceremony like this is a team effort and I worked closely with Christina and David to get all the details right. I'll let Christina tell you about it:
 "We love working with Cris! We chose her to create a baby blessing ceremony for our older son. We were not sure what we wanted, but we knew we wanted something very special. We were so happy with her services that we also had her create a blessing ceremony for our younger son. This time it was about my husband and I…we were celebrating our 10 year wedding anniversary! Since the first time around we did not have a ceremony, we decided it was very important to make family the center theme of our vow renewal. Cris is wonderful! She sent us our questionnaire and asked any additional questions. When shared the ceremony for feedback via email, there was a great dialogue throughout. Even when we added a portion to the ceremony at the last minute, Cris was happy to accommodate. My family and I feel like we know her from sharing 3 major life events with us. She is a great person to help create something special for you!"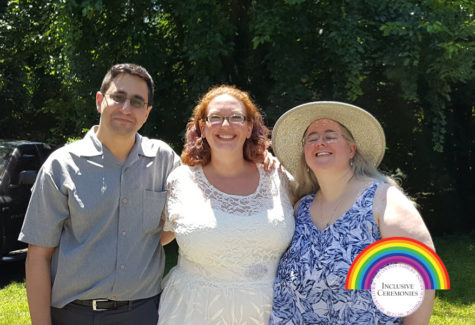 Ceremony Details

Words of Welcome & Group Greeting

Saying "Hi" to Christina's Mom over Facebook

Christina and David's Love Story

New Vows for the Future

Family Candle

Rock Garden Ceremony (with words of love an appreciation for each person who gave a stone)

Family Tree

Statement of Continued Support (from the guests to the family)

Our Wishes for David and Christina

End with a Kiss!
Do you have a personal or family milestone you want to mark with ceremony? Let's talk about it!