Congratulations! You're engaged!
Whether you asked or they asked or you two just mutually decided, something BIG has happened—life-changingly big!
And now…you might be wondering what to do now that you're engaged.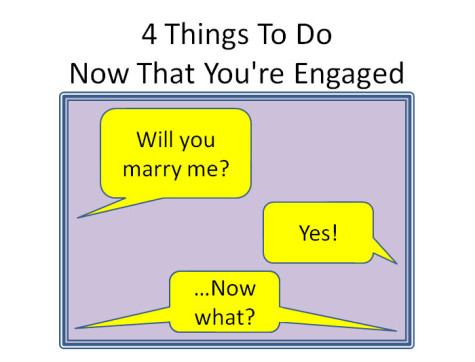 1. Savor the moment. This IS big! Take some time for the two of you to enjoy this new chapter in your life together. Take note of what bought you to this decision, dream about your future, and let it all soak in.
2. Think about what it means to be engaged. This is more than just time to plan your wedding. This is time to decide what marriage means to the two of you—and to get on the same page about that. So open the door to talking about that in the weeks or months ahead.
3. Start talking about what kind of wedding you want. And if neither of you are sure, talk about talking about it. You don't have to start making firm plans as soon as you get engaged, but it's a good idea to share your vision with each other just to get the conversation started.
Here are some wedding planning items to begin with:
Big wedding or small? (And what do we each mean by that?)
Religious ceremony or not?
Traditional (Which traditions?) or Untraditional (What does that mean to us?)
Time of year
Type of venue
What's your budget?
What things are most important me—to us?
Is there anything we definitely don't want?
Just sharing your ideas with each other can be fun and insightful and knowing something of what your future spouse has in mind will help both of you deal with the next step.
4. Share the news! The most fun part of getting engaged for me was telling EVERYBODY. I loved sharing our happiness and surprising people with the good news.
As you spread the word, you'll probably be asked first about the proposal and then about your wedding.
Planning a wedding can be a juggling act of expectations. You'll hear a lot of opinions from family, friends, coworkers—even strangers. This can leave some couples feeling very pressured to live up to expectations.
Remember, at the core of your wedding plans should be a shared vision of what the two of YOU want. Until you both know what that is, don't be afraid to say that you're taking some time to enjoy just being engaged before you make plans.
When you're ready to start making those wedding plans, here are some posts to help you get started:

Why Hiring Your New Jersey Wedding Officiant Should Top Your Wedding Planning Checklist

How do we find the right wedding officiant for us?

12 Must Do Wedding Ceremony Planning Tips

What type of marriage vows should we consider?
Do you have questions about planning your wedding ceremony? Let's talk about it!